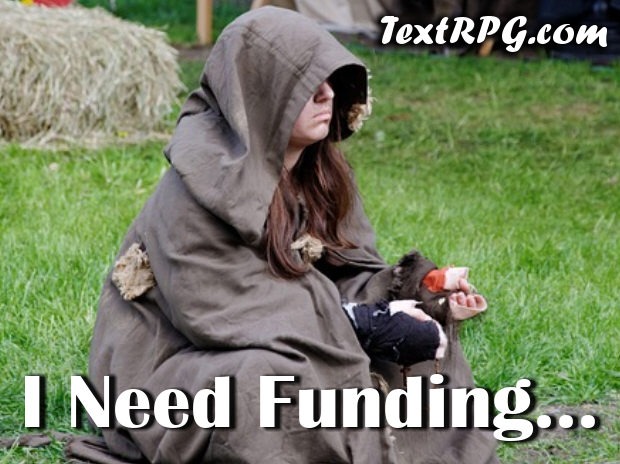 Funding builds Text RPGs
Funding allow you to build, thus Text based role-playing games like ROK II needs funds. It would be nice to live in a world where everything came  free but the truth is to create such an elaborate game the time and money has to come from somewhere. There are many methods that can be employed for raising fund for a Text RPG but only some may work for you. In my particular case, as an Autism Parent I am severely limited to online funding where time allows, however in this article I will outline some of the methods you can use to raise funds.
Where is the best place to get funds?
The best place to get funds are from those already involved in your game or community (members / players / developers). No one knows what you want to achieve better than the aforementioned already playing it or involved in the development. They can see what is happening and are therefore more willing to help you raise funds.
Funding from other places
If you have already exhausted your immediate circle then consider the friends and associates of that circle. People often get involved in things that bring them happiness but may not share what they are doing with others. Get your immediate circle to share what you are doing with your Text RPG so others can can come on board.
You can also try the following if you have a good marketing strategy:
Crowdfunding allows you to directly advertise your project to people who may be willing to fund it. Keep in mind that there are many others who are also looking for funding like you are so it may be a hard sell. There are third party groups that claim that they can spread the word about your funding needs for a fee. They claim that they can inform a certain group of people that are more likely to fund your project but I have never personally tried this. Places like Kickstarter, Indiegogo and so forth are popular hubs for raising funds.
Social groups related to the theme of your project will probably like to know about it but watch out for their rules as they may consider it spamming.
Companies that build games may be willing to sponsor some funding if they can get their name involved or feel that it will help their own company to grow.
How long will my funding last?
People like an explosion in something new and then the excitement tends to die slowly as time passes. This is because the gaming market is very saturated with something new coming out everyday. Its important to gain as much funding as you can during the initial development or release phase. Good luck with your game.
Do you need funding for your own Text RPGs?
Yes, I do. We have a big need for ROK II funding and have setup a special page for anyone willing to become a backer.